Page 1 of 4 • 1, 2, 3, 4

Posted on Fri Jul 15, 2016 12:15 pm
Thread Details
Dance Club | Calm & Clear | 10:00 P.M.
Okay so first I want to mention that Noelle's avatar is outdated. Noelle is a bit more tanned, probably about this tone or the tone pictured in her outfit picture below. Her hair is still quite long, thick, and black. And being a vampire, naturally all of her body reference pictures are still accurate.
Below are images of her hair, makeup, and outfit. In that order.
Her hairstyle is the same as the image, however the band is not, the band she's wearing is gold-metal, and obviously Noe's hairline is different. As for her makeup, brows are not included. I'm sure y'all have seen her eyebrows enough to know how she grooms them [And obviously Noe's brows are darker than pictured as she has black hair, not blonde.] Her lip color is also not the same as the makeup pic, it's the same as the girl in the outfit pic. So basically... Her makeup reference pic is only accurate as far as the strobing/eyeshadow goes [foundation/highlight for those that don't know what strobing is]. She probably has on her usual winged liner as well. Her shoes are not pictured, but as you probably already guessed, she's wearing heels. They're probably the same exact color and tone as her outfit and rather simple with gold-metal accents. - And lastly, Noe doesn't have piercings beyond her ears, [which is the only jewelry she's wearing, just a pair of simple large gold-metal studs] so the belly button piercing in her outfit reference is not included.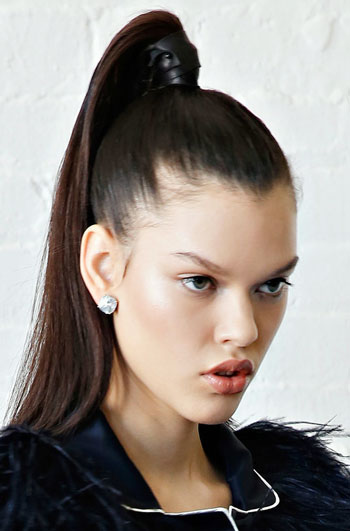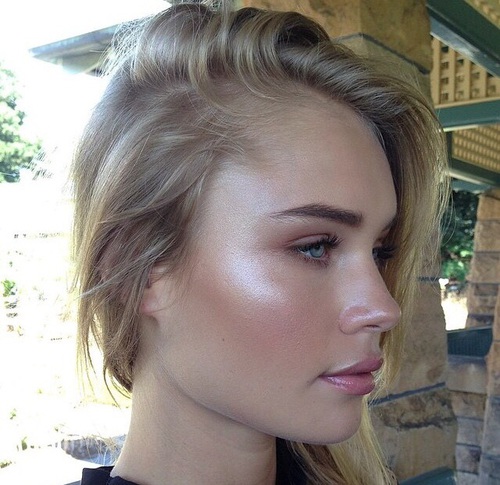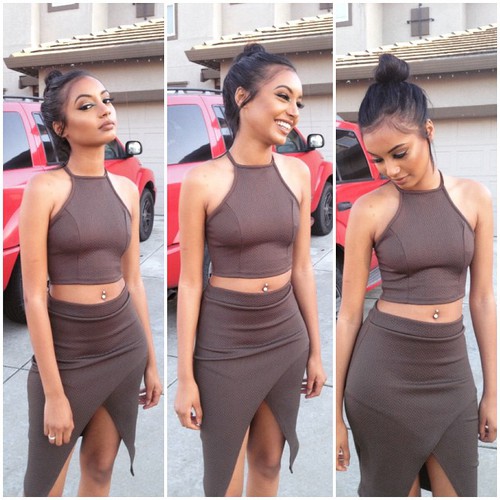 This place had changed. It had also moved so I suppose it was natural for the inside to look completely different. It still smelled of sweat and liquor, which was really the only reason I came. That smell was a time machine, and I wanted to be strapped into the front seat of that ride. No vampire tricks tonight, or at least that was the plan. Compelling was strictly forbidden in my little game. I wasn't hungering for a challenge, and I was fairly certain I wasn't chasing that look of fear they used to get right before I'd sink my teeth in; Prior to developing my compelling abilities. I just wanted to confirm that I could do it. Self control was everything afterall, wasn't it?
I sat front and center, leaning back casually with my legs crossed; And one elbow propped on the back of my circular booth, fingers running through the tail end of my hair. My other hand lightly gripped the rim of my full glass as I stared directly into the dance floor, which was already flooded with try-hards and way too many fishnet stockings for my gag reflex to take.
''Can I buy you a drink?''
I took my time before slowly turning my head in the direction of the voice. Short, toned, but not necessarily muscular, kind of like a twelve year old boy that played soccer on the weekends. He had blonde hair, and for the male variety wasn't anything exactly spectacular. My eyes traveled to his companions. None of which really stood out from the crowd... Except one. Red hair, the right build, the right height... Maybe he had a fishnet wearing parasite on his arm, but those could easily be disposed of. I caught his gaze and faked a shy smile. The blonde tried to step in my line of sight but his friend was already under my influence. One cheat was allowed wasn't it?
''Noe? Don't you remember me?''
I hadn't even bothered to look at the blonde again, of whom, for the record, I
didn't
remember. My undivided attention was on his friend which had broken away from the parasite and found his way beside me.
I kept my eyes on his as I raised my glass over the floor and tilted it just enough for all of the liquid to poor out.
Buy me a drink?
He immediately smirked and motioned for a server.
Posted on Sat Jul 16, 2016 1:15 pm
Look however the sunnies are hanging from his pocket. Silver hollow plugs. Tattoo on forearm.
See anything you like?
I mumbled, not that it mattered. No one else could hear me over the music and loud conversations. Disco was going to be experiment number two. My first time with this didn't go so well, which I somewhat attributed to Jude's will. He wanted it, but not bad enough. I did my part, I even lead him in the right direction, but he just wasn't strong enough to hold on. That, or there's more to it I don't know. I hadn't seen "Logan" lately to really know for sure how that eventually played out. I knew I could help Disco, and to be truthful I owed him. He was the reason I was finally able to stop running, and the reason I was going to get back everything I lost and more.
"Different times, man."
Sorry, man. But when you get out here it's not like you can put on your tacky ass John Trevolta shit and not look like a complete nutjob. Besides, look past the clothes.
I could see why it was hard. Obnoxious snapback hats, cheap gold chains, and really most of them were overweight. I imagined them to have a horrible attitude to make up for the fact that they still lived with their mom and had nothing to offer society.
As for the women, it was about fifty fifty. Most of them seemed to deliberately want to look like a 90's prostitute. The makeup was nice, but very fake. But at least compared to the men they seemed to put some effort into their appearance.
You know, Disco, you can't be too picky. I mean what you have is way past being even worm food.
"I guess he's alright,"
Disco said, looking over toward a guy who was practically oogling a woman in a booth. I didn't know the rich and famous, but she could have passed for just that. She was out of his league, but then again it was surely slim pickings here.
"Can I follow him around first? Maybe pry at his medical records? See him in daylight?"
God, chill, or you're getting a half rotten carcass. But yes, we'll go get a closer look.
It only took a few steps for me to realize just who he was talking to, or I should say what. God, she was perfect - but I don't mean in the typical way you would think. I wasn't drooling over her body. No, I was thrilled at the sheer confidence radiating from her - and my need to tear it down. Because if anyone could, it was me.
"Dammit Shane, I know what you're thinking and please don't ruin this for me."
I just wanna talk to her. We'll find your man. He'll be here all night, trust me. I just want to… talk to her.
My words were more quiet as I was getting closer to her. Disco continued to plead, but I ignored him and nonchalantly plopped myself down, knocking myself obnoxiously into her.
I waved my hand in front of her face, as if to say, "it's okay," but really I was keeping her from speaking.
Sorry, fellas, my fiance is off the market.
Posted on Sat Jul 16, 2016 3:26 pm
Hair, Sof went back to her natural hair color & grew her hair out quite a bit | Outfit, minus the sunglasses & clutch | Makeup & is wearing usual peach lip balm
I've back in town for three days and things are already starting to look up since I was last here back in April. Got rid of my house and moved into a lovely studio apartment down in the West Elkton neighborhood which is where I luckily picked up a job as a receptionist at Tattarama. Today was actually my first day on the job and I've never felt so refreshed. It's all such a change and so different, but that's exactly what I am now. It all couldn't be more perfect. My escape to the coast couldn't have been more perfect. The entire shop and I hit up a couple of bars as celebration for my first day before we departed for the night and I ended up, well, here. 
I walked through the club doors with a new skip in my step, a new groove to my hips as I strolled through the crowd towards the bar. It's as if I finally found myself while spending so much time by the coast with my feet in the sand. This new sense of confidence, and I've never felt more alive. I was already feeling buzzed from the drinks at the bars prior, but one cinnamon shot will do just the trick. It was as if the bartender was expecting me once I sat down on the metal stool and ordered my shot. In the time it took for him to go off and prep my glass, I ran my fingers through my new locks and scoped out the dance floor, remembering the last time I was here. Little did I know then that night would turn my entire life upside down. Thankfully the bartender returned with my shot, breaking my train of thought, and I took one swig of it before making my way towards the crowded dance floor.
The female voice in the song blaring throughout the club revived my train of thought, recalling the song he and I first danced to. Then I felt the firm hands on my hips, a shiver radiating down my spine, as our bodies moved with the rhythm. I spun around to met my little guest and to my relief, it was also a new, very good-looking face. It was at that point, I realized I've never been more happy to know it was not him.
Posted on Sat Jul 16, 2016 6:00 pm
''I'm a bartender, there's more to life than money, yanno? I-'' - That's all very interesting. I caught his gaze, But don't you remember? You're a doctor. The past fifteen minutes have been spent entirely with an exchange of brief eye contact and rather simple conversation. Your name is Benjamin, you drive a nice car because you can. Your confident, maybe a bit cocky, but you have the lifestyle to back it up. You have to have the best of the best, and that doesn't exclude the most beautiful women in the room. And while our time together has intrigued you, you are now suddenly feeling the urge to personally head to the bar with my empty glass and get a refill for me- I paused, looking back at the bar and immediately recognizing someone in particular. I couldn't even fight back the faint giggle and smile that followed.

Do you see the loose curls in burgundy? Her name is Sofia. You know her quite well... And have for quite some time. When you approach her, you'll place my glass on the bar and casually nod your head for the bartender. You're going to ask her how she's been, and apologize for losing contact. She might not recognize you at first, and when you remind her that your name is Ben, she might not believe you. You'll have to insist, and quietly lean in to remind her how your blood tasted. Remind her of the feeling it gave her when it was inside of her. And when all is done, do everything in your power to bring her over here. And don't forget my drink.

I smiled confidently, staring at him as those moments of my influence breaking away left him practically brain dead before he came back to the land of the living. It was in that moment when I heard a voice, and I immediately made eye contact. His eyes were on the two of us, and I just knew that any man with the confidence to attempt that on me was worthy of a moment of my time. I gracefully passed my glass into the hands of Benjamin the second and sent him on his way without even giving him another look. I'm not the marriage type... My voice trailed off into a deep inhale. He smelled... Different. Good different? I wasn't entirely sure, but curiosity had already set in. What could he possibly taste like?

Is that... Another deep, ironically unnecessary breath consumed me as I desperately tried to pinpoint what it was about this stranger that made him stand out from the crowd. Nothing indicated wealth. Charm? Possibly, only time would tell. Was there an element of importance? Had I seen him before? My thoughts were so hectic I had barely realized my entire game of self control had been lost in about zero point two seconds. I was pressed against him, my face resting on his shoulder and nose lightly against the side of his neck. The scent was stronger here, but again I couldn't even tell if he was something to run from for devour.

I pulled myself away, long enough to clear my head and form a sentence. Pheromones are on high tonight.


Posted on Sat Jul 16, 2016 6:54 pm
I stared ahead, sighing and rolling my eyes as she practically clung to me. Damn, it's no fun if I don't have to work for it, I said after a moment. I gently pushed her nose away from my neck. I didn't assume you to be new to this. New to what I wasn't sure, but I suppose it might have sounded like the dating scene? Or any game a male and a female played with each other. Either way, she wasn't going to be any fun if she'd step off her high horse that easily.

I looked back into the crowd, hoping to see her new toy on his way back with our drinks so that perhaps I could have her send him right back for my own. Disco had already given up and with good reason. If he was a good little ghost, and this woman was a good little fanger, maybe the guy would be easy pickings for us. But it wasn't the guy who caught my attention. It was who he was speaking to. I was nervous for a split second. Most of my encounters with Sofia were planned - this one wasn't.

This is going to be a busy night for me, I muttered, looking directly at the girl with burgundy hair. She looked glowing and happy and I wondered if and how that would change once she saw me and I would make sure to it that she did.

Do you see that girl? I wrapped my arm around the small of her back, my fingertips grazing her abdomen. From the time I spent with the vampires, I could tell that their compulsion was through eye contact, however mine seemed to flow from my fingertips in a airy stream onto my target. We're going to be nice to her. I stopped to turn my stare back to the black haired vampire. Because I need her for something.
Page 1 of 4 • 1, 2, 3, 4

---